Mazda Year End Event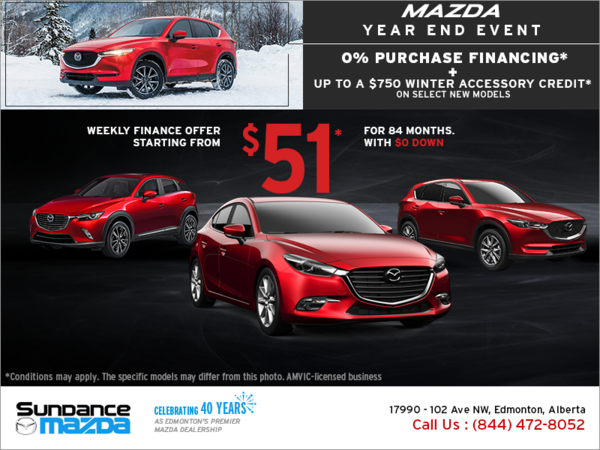 It's the Year End Mazda Event!
Get 0% purchase financing on select models.
Plus get up to a $750 winter accessory credit on select new models.
Some conditions apply. This offers ends on November 30, 2018.
Book your test drive today!
0% APR Purchase Financing is available on select new 2018 Mazda models. Excluded on 2018 MX-5/MX-5RF and all 2019 models. Terms vary by model. Based on a representative agreement using an offered pricing of $17,695 for the new 2018 Mazda3 GX (D4XK68AA00), with a financed amount of $18,000 the cost of borrowing for a 72-month term is $0, monthly payment is $250, total finance obligation is $18,000. Offer includes freight and P.D.E. of $1,695 and $100 air conditioning charge (where applicable). Offer excludes PST/GST/HST and specific duty on new tires.
Winter Accessory Credit offer (value up to $750) is available to qualifying retail customers who cash purchase/finance/lease a new, in-stock 2018 and 2019 Mazda model from an authorized Mazda dealer in Canada between November 1, 2018 – January 2, 2019. Customer can substitute a cash discount of up to $750. Amounts vary by model: $300 on all 2018 Mazda3/Mazda3 Sport, on all 2018 Mazda6, on all 2019 CX-3 and on all 2018 CX-5 models. $475 on 2019 MX-5 ST GS models. Maximum $750 on all 2018 MX-5 ST/MX-5 RF, on 2019 MX-5 ST GS-P & GT models, on all 2019 MX-5 RF models and on all 2018 & 2019 CX-9 models. Cash discount substitute applied before taxes. Some conditions apply. See dealer for complete details.
Based on a representative example using a finance price of $17,471/$21,471/$22,516/$27,921/$28,921 for the 2018 Mazda3 GX (D4XK68AA00)/2018 Mazda3 Sport GX (D5XK68AA00)/2019 CX-3 GX (HVXK69AA00)/2018 CX-5 GX (NVXK68AA00)/2018 Mazda6 GS (G4SN88AA00) at a rate of 1.49%/1.49%/2.99%/3%/1.99% APR, the cost of borrowing for an 84-month term is $938/$1,153/$2,466/$3,069/$2,085 weekly payment is $51/$62/$69/$85/$85, total finance obligation is $18,409/$22,624/$24,983/$30,990/$31,006. Taxes are extra and required at the time of purchase.
Cash purchase discount for all new 2018 CX-9/2018 MX-5/2018 MX-5 RF models is $3,475/$4,000/$2,500 and cannot be combined with other offers, including lease and financing offers.
As shown, price for 2018 Mazda3 GT (D4TL68AA00)/2018 Mazda3 Sport GT (D5TL68AA00)/ 2019 CX-3 GT (HVTK89AA00)/2018 CX-5 GT (NXTN88AA00)/2018 Mazda6 GT (G4TM88AA00)/2018 CX-9 GT (QXTM88AA00)/2018 MX-5 GT (L2TK68AAOO)/2018 MX-5 RF (L3TK68AA00) is $26,221/$27,221/$33,116/$37,571/$38,171/$49,771/$41,667/$44,667.
All prices include $20 tire tax, $100 a/c tax where applicable, $6.25 AMVIC fee where applicable, freight & PDI of $1,695/$1,795/$1,895 for Mazda3/ Mazda6, MX-5/CX-3, CX-5, CX-9. Taxes extra.
Licence, insurance, taxes and down payment (where applicable) are extra and may be required at the time of purchase. Dealer may sell/lease for less. Dealer order/trade may be necessary on certain vehicles. Unless otherwise stated herein, offers valid November 1-30, 2018, while supplies last. Lease and finance on approved credit for qualified customers only. Offers subject to change without notice. Visit mazda.ca or see your dealer for complete details.